Hatch Chart
Laramie Plains Lakes Hatch Chart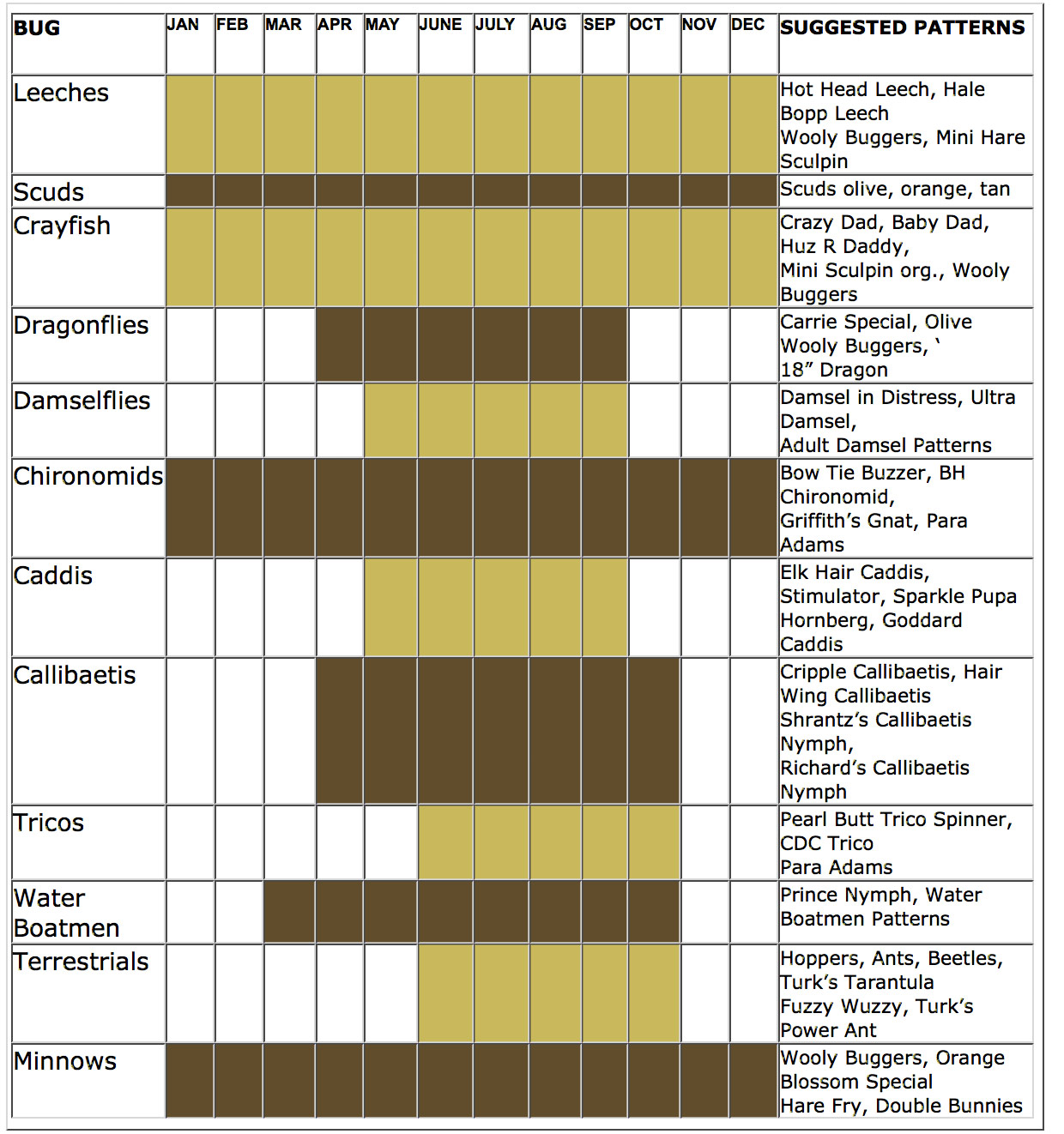 Click Here for the Laramie Plains Lakes Fishing Report
The Laramie Plains Lakes are a collection of alkaline impoundments located 15 miles west of Laramie off of WY 230. These fertile waters support a fantastic amount of trout food and have the correct ph level to grow trout as fast as any where in the country. The main food sources for trout in these lakes are scuds, caddis, damselflies, dragonflies, callibaetis, and chironomids.
They fish best in early spring right after ice out through mid July and again in the fall. Late summer can cause water temps to climb into the mid 70's making the fishing very difficult. Early morning and late evening are the best times to fish during this time of year escape the high water temps. If you fish the Laramie Plains Lakes expect to fish in the wind. The spring and the fall are the windiest seasons but it can blow in this part of Wyoming any day of the year. Don't let the wind deter you, however, some of the best fishing can be during some of the worst weather. It is a good idea to bring your 7 wt. rod with you to help fight the blustery wind.
There are boat ramps at each lake allowing for larger motorized watercraft. It is a good idea to call or email Four Seasons Anglers prior to launching boats at these lakes because of the fluctuation in water levels. The drought has made it difficult at times to keep enough water in these reservoirs to easily launch a boat.
Lake Hattie is the largest of the Laramie Plains Lakes at 1500-3000 surface acres depending on water levels. It contains rainbows, browns, lakers, Kokanee salmon, and perch. The browns and rainbows range from 12-30 inches with the occasional 5 to 10 pounder, and the lake trout average 5 to 15 pounds. There is camping and a couple of boat ramps at Lake Hattie. There are, however, no electric of water hookups at the campsites.
Twin Buttes is a 250-acre impoundment that contains rainbows and browns averaging 12 to 25+ inches. This reservoir offers the angler a great opportunity to catch a true trophy brown in the eight-pound range. Fishing at Twin Buttes is best in the fall when the browns are trying to spawn. Look for fish to be in the shallows with a gravely bottom. There are two boat ramps and overnight camping, but no hookups.
Galett is the smallest of the Laramie Plains Lakes, at only 34 surface acres. It has rainbow trout from 12 to 24 inches and grass carp. We have good carry over fish at Galett the past couple of winters thanks to efforts from the Wyoming Game & Fish aeration systems. This impoundment is an extremely shallow lake with great vegetation growth full of damsel nymphs and scuds.
Meeboer is a 119-acre reservoir that grows fish faster than any of the other plains lakes. Recent efforts by the Wyoming Game & Fish have allowed us carry over fish the past couple of years, which has greatly increased the rainbows average size. Prior to these efforts fish averaged 10-14 inches but now fish in the six to ten pound plus range have been more common.
Gray Reef Hatch Chart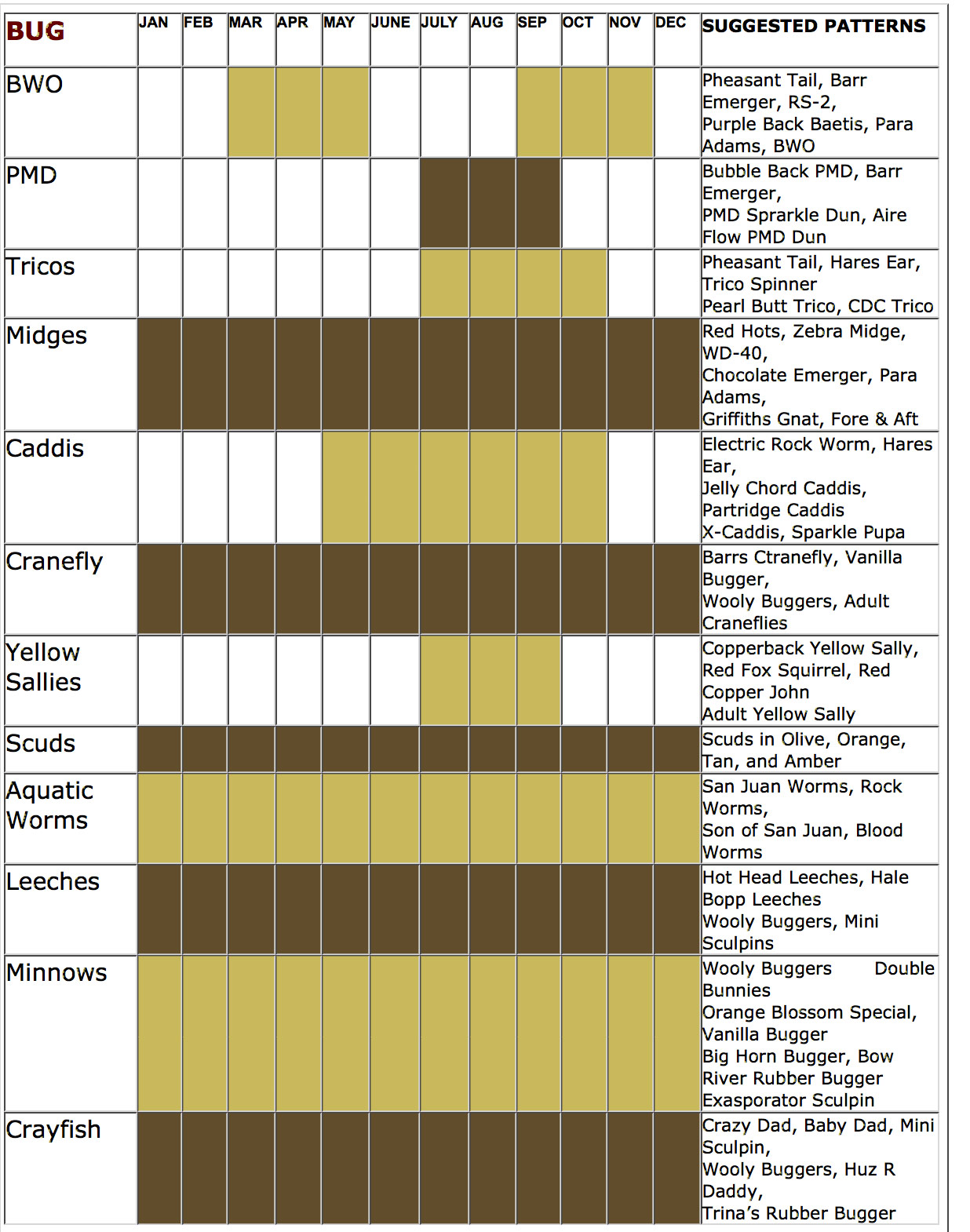 Click Here for the Gray Reef Fishing Report
The Gray Reef section of the North Platte River was recently voted #1 by American Angler Magazine in its winter edition of 2005, as the top spot in the world for large trout.
This is where good eastern brook trout fishermen come to find nirvana-you have a better chance at a trophy rainbow (or, for that matter, brown) on the North Platte than you do just about anywhere else in the lower 48.-American Angler Magazine
The Gray Reef, located 30 miles south of Casper on Wyoming State Highway 220, is one of two Blue Ribbon tailwaters on the North Platte River. It is considered one of the best Rainbow trout fisheries in the country with fish averaging 16-20 inches and plenty of fish in the 10+ pound range. The Reef begins below Gray Reef Reservoir, a small impoundment just below Alcova Reservoir, and flows north towards Casper. This area is high desert country with very few trees and virtually no cover from the elements. Wind is definitely a factor when fishing the Gray Reef. You can expect to fish in 15 to 25 mile per hour winds any given day, especially during the spring. Unfortunately, spring is one of the most productive times to fish the reef, especially April through June. The Gray Reef does stay open year around allowing for some great winter wade fishing; if you decide to float in late winter make sure to contact Four Seasons Anglers to see if the river is frozen before the first boat ramp. This doesn't happen very often but portaging a drift boat over and ice shelf sure can ruin a float trip.
The Gray Reef is a slow moving river with lots of frog water and very few island braids making it hard to read at times. Summer flows range from 2000 to 3000 cfs and the winter flows are typically held at 500 cfs. We get tremendous hatches on this river, including BWO's, PMD's, caddis, Yellow Sallies, and Trico's. Unfortunately, this is not a great dry fly fishery. The best dry fly action is at dusk for caddis and in the mornings during the Trico hatch. The best way to have productive days on the Gray Reef is to dead drift a nymph and indicator rig along seams and drop offs. Streamers can also be productive, especially during the spring and fall.
The upper 7 miles of the Gray Reef is the most famous and also the most heavily fished section of this 40-mile stretch or river. Public water on this section is limited to three access points: the Gray Reef Access Area right at the dam, Trapper's Route #1, and Lusby Public Fishing Area. Fishing from a drift boat or raft is the best way to explore this area because of the limited public water to wade fish. When floating this stretch be careful where you drop anchor or get out of the boat. Wyoming state law states that the landowner owns everything but the water that you are floating on. There have been several fishermen that have been fined up to $250 for trespassing on private land. The largest public stretch of river is located below Government Bridge, at Clarkson Hill and By the Way Ranch Public Fishing areas. There are several other less significant access points that are mainly used as boat launching points, including Government Bridge, Sechrist, Bessemer Bend, and Robertson Road, each of which has a boat ramp.
Upper North Platte River Hatch Chart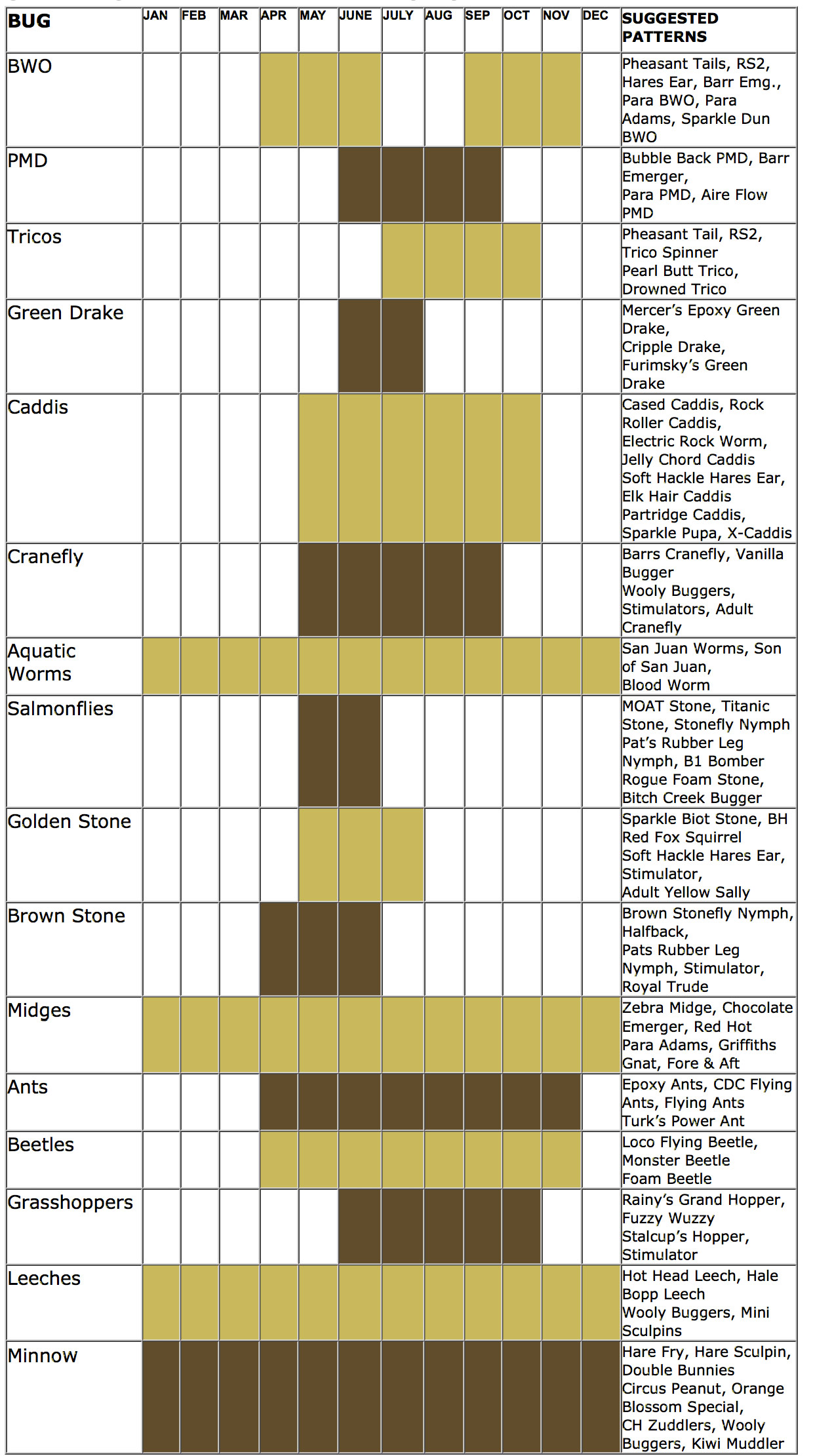 Click Here for the Upper North Platte River Fishing Report
At the foot of the Snowy Range Mountains flows a hidden gem through the Wyoming plains, the North Platte River. This pristine freestone river, nestled in the Saratoga Valley, offers a rare combination of Blue Ribbon trout fishing, spectacular views, abundant wildlife, and no crowds. This freestone fishery begins in North Park Colorado at the confluence of Grizzly and Little Grizzly Creek and flows north into Wyoming picking up several other small streams along the way. The North Platte continues north through Wyoming over 300 miles before it heads east and reaches the Nebraska border. On its travels the characteristics of the river change dramatically from a deep canyons with tight narrow runs to wide meandering flats in the lower pasture and high desert sections. The 60 miles between the Routt access and the town of Saratoga is all considered a Blue Ribbon trout fishery and has not been stocked since 1979. In 1982 the Wyoming Game & Fish Department instituted a slot limit, which requires all fish between 10-16 inches to be released immediately. They also designated this a flies and lures only stretch. The combination of these conservation regulations drastically increased the number of trout per mile. The North Platte now claims 4000 fish per mile consisting mainly of browns and rainbows, with a few Snake River cutthroats. The North Platte River offers a multitude of wade fishing and float fishing opportunities. There are over 20 miles of public water in the Medicine Bow/Routt National Forest alone, with several other significant public sections between Colorado and Saratoga.